Your Guide to Moving to Jacksonville, FL
Known as the "River City," Jacksonville is perfectly positioned on the Atlantic coastline with the St. Johns River running through the area. Offering a unique blend of natural beauty and urban lifestyle, it's no surprise that Jacksonville's population is growing rapidly. With warm weather almost year-round, endless entertainment and recreation options, excellent economic and education opportunities, and a relatively affordable cost of living, Jacksonville is ranked amongst the best places to live in the country. Read on to learn more about why this great city may be the ideal home for you.
Enjoy the Great Outdoors
If you love the outdoors, you'll love Jacksonville. Boasting a longer shoreline than any other city in America and the largest urban park system in the nation, Jacksonville stands out as a place where you can live an active, outdoor lifestyle.
With 22 miles of unspoiled, sandy beaches, Jacksonville is an ocean lover's dream destination. Whether you enjoy swimming, surfing, sunbathing, or playing in the sand with your kids, there are countless beaches to choose from, and it'll be up to you to decide which beach you want to sink your toes into on any given day.
But the sand and the sea are not the only way to enjoy the water here in Jacksonville. The city's Intracoastal Waterway has 40 miles of canals and inlets that are perfect for boating and fishing. You may even be lucky enough to see dolphins and other local wildlife along the way.
And we would be remiss if we did not give mention the "crown jewel of the city," the St. Johns River in the heart of downtown Jacksonville. The riverfront is a vibrant and exciting area where the community comes together for fun and entertainment. Come here to kick back and relax after a long day at work at one of the many waterfront bars or restaurants. Or take a stroll along the three-mile riverwalk and enjoy spectacular views of the downtown skyline reflected on the water. The area also hosts weekly arts and farmers' market and numerous annual events including the Jacksonville Jazz Festival, the Spring Music Festival, and Fourth of July Fireworks.
Warm Weather and Sunshine Year-Round
In Jacksonville, warm, sunny weather is the norm almost year-round, which means that you get to enjoy all the wonderful outdoor activities the city offers anytime you like. Living here you'll have perfect beach weather in the summer. Temperatures often rise above 90 degrees and the air is humid, which makes the sand and sea the ideal place to be. In the spring and fall, you'll enjoy average temperatures in the 70s and 80s, perfect for just about anything you want to do. Winters are mild with temperatures usually in the 50s and 60s and rarely falling below 40 degrees.
An Abundance of Economic Opportunities
One of the key reasons people are moving to Jacksonville is to take advantage of its growing job market, which offers a diverse array of opportunities in a variety of industries. The Jacksonville job market has grown by 12.9 percent over the last ten years, a rate that is higher than most other cities in the U.S. While the Naval Air Station is the largest employer in Jacksonville, there are many other opportunities as well. From banking and finance to healthcare, education, and hospitality, there is a job for just about any career path here in Jacksonville.
The Best Healthcare
Living in Jacksonville, you will have access to the best healthcare in the country. Jacksonville is home to one of the locations of the world-renowned Mayo Clinic, a hospital system that people travel to from all over the country and even the world when they need only the highest quality healthcare. The Mayo Clinic in Florida has been ranked as the Number 1 hospital in the entire state.
High-Quality Education Options
If you have children, you can feel confident that they will have excellent educational opportunities when you move to Jacksonville. Duval County Public Schools is the main school district in the area, which operates a total of 172 schools that include primary and secondary schools, as well as charter and magnet schools. The quality of these schools is proven by the fact that seven of Jacksonville's high schools have been ranked among the top public high schools in the country. There are also many excellent private and Catholic schools in the area, giving you even more options for selecting the best school for your child.
If you or someone in your family is pursuing higher education, you can be sure that you'll have many high-quality options right here in Jacksonville as well. These include the University of North Florida, Florida State College at Jacksonville, St Johns River State College, and Jacksonville University.
A Great Place for Sports Fans
If you love sports, you'll love Jacksonville. Home to the NFL team, the Jacksonville Jaguars, football is the most popular sport in the city. But there are also many other professional and semi-professional sports teams in Jacksonville including baseball, basketball, hockey, and soccer. There are several college sporting events held in Jacksonville each year as well.
An Affordable Place to Live
After learning about the wonderful lifestyle Jacksonville offers, you may be surprised to learn that the city's cost of living is relatively low. Jacksonville's cost of living index is actually about seven points lower than the national average, with the low cost of housing in the area being the main driver of its affordability. The city is also known to be one of the cheapest cities to live in Florida. So if you're thinking about moving to Jacksonville, you can be sure that you'll get more bang for your buck here, particularly when you compare it to other coastal cities in the United States.
An Array of Diverse Neighborhoods
With more than 500 neighborhoods in the Jacksonville area, you'll have many options to consider when you start looking for a home in Jacksonville. No matter which neighborhood you decide to live in, you can be sure that you'll be welcomed with Jacksonville's unique blend of Southern hospitality and charm. Here are just a few of the neighborhoods of Jacksonville:
Southside
Southside or South Jacksonville is a large area to the south of downtown, east of the St. Johns River. Here you will find everything from starter homes to luxury mansions with some of the most spectacular river views in all of Jacksonville. The neighborhood is bursting with greenery and natural beauty, and there are many good schools in the area as well. The Southside has also recently developed into a vibrant business center with two shopping malls, plenty of entertainment and dining options, and a thriving nightlife.
San Marco
San Marco is a suburban residential neighborhood located on the riverfront and just minutes from downtown. The neighborhood was modeled after an area in Venice with the same name, drawing residents and visitors alike who love the Italian charm and spectacular views that are all around. San Marco is also one of the safest neighborhoods in Jacksonville.
Orange Park
If you're looking for an area with a more rural feel, Orange Park is a lovely neighborhood with large properties and plenty of wooded areas. Located forty minutes south of downtown, Orange Park is great for those who are looking to live away from the hustle and bustle of the city but still want access to it when needed.
Northside
The Northside is an expansive area located to the north of downtown. This neighborhood is great for those who want to live in an area with a suburban, residential feel while also having convenient access to the city. Home to the Jacksonville Zoo and six state parks, it is also a wonderful area for families and those who enjoy outdoor adventure. The Northside also has endless dining and entertainment options available, and the Jacksonville International Airport is also right nearby.
Westside
Loved by boating, fishing, and camping enthusiasts, the Westside offers easy access to Jacksonville's waterways and is a great place to live if you love outdoor adventure. While the area does not have the amenities and entertainment options that other neighborhoods do, downtown is only 15 minutes away, making it easy to commute there for work or fun.
St. Johns County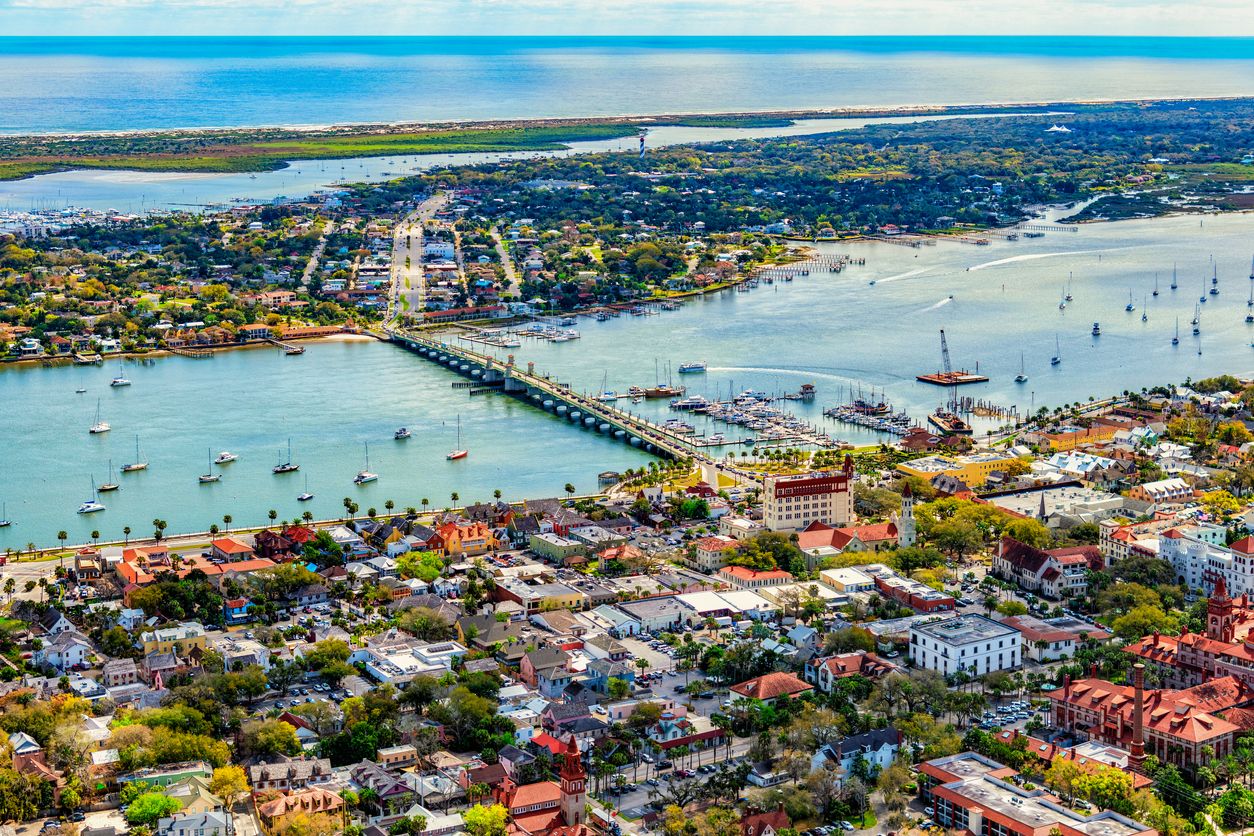 St. Johns County is one of the fastest-growing locations in the Jacksonville area and was recently named one of the best places to live in the country. The area appeals to those who want to live in a quiet suburban area surrounded by natural beauty, with easy access to the excitement and opportunity available in Jacksonville. St. Johns County is home to St. Augustine, which is the oldest city in the U.S. and a popular tourist destination. Those who live in St Johns County love St. Augustine for all the shopping and dining options it offers. St. Johns County is also considered to be a safe and family-friendly area to live in and has the top-ranked school system in the state of Florida. Due to the growth of the area, St Johns County has many newly constructed developments to choose from with homes to suit all lifestyles and budgets.
A New Construction Home Is the Best Choice in Jacksonville
As a coastal city offering a suburban lifestyle and a low cost of living, Jacksonville is a unique and wonderful place to live. It's no surprise therefore that Jacksonville is growing rapidly and the housing market is doing very well.
If you're considering buying a home in Jacksonville, these trends provide good reason to consider a new construction home. There are many new housing developments and communities available throughout the Jacksonville area, all offering a variety of options designed to suit any lifestyle and budget.
Here are some of the key advantages to buying a new build over a resale in Jacksonville:
New homes are built in desirable and upcoming neighborhoods
With so many neighborhoods to choose from in Jacksonville, homebuyers often find themselves confused by all the options. While you will find newly constructed homes and communities all over the Jacksonville area, you can feel confident that they are only in desirable neighborhoods. Jacksonville builders carefully select the neighborhoods where they build new homes and communities to ensure they will appeal to homebuyers and hold strong value over time.
New homes are move-in ready and near flawless
When you choose a new construction home, you get more peace of mind knowing that you're buying a home that's move-in ready and free of defects and outdated systems. In your new home you can feel confident that there are no foundation issues and all your plumbing and electrical systems, as well as appliances, are working and updated. New home builders also provide a warranty that covers the cost of any issues that may arise in the home during the warranty period.
A new home provides a new community
Newly constructed homes are usually built within new communities that are not open to investors. This means that just about all of your neighbors will be homeowners who have recently moved to the area and will be looking to make friends and build community, just like you are. You may even find that some of these communities have organized social events and activities for you to participate in. And with all the amenities that new home builders often include in their developments, such as swimming pools, clubhouses, and playgrounds, you'll instantly have plenty of opportunities to gain a sense of belonging in your new community.
A new home provides more value for money
While the cost of new construction may or may not be less than the purchase price of a resale home of comparable size and location, you can feel confident that you are getting more value for your money when you choose to buy new. In addition to outdated systems and appliances, resale homes can have hidden defects that may not be uncovered in an inspection. It's not uncommon for buyers of resale homes to find themselves facing large bills for repairing these types of problems just a year or two after they move in. Furthermore, new homes are more energy-efficient and are cheaper to insure. Last but not least, when you decide to sell your home, your house will be newer and will likely hold more value if you bought a newly constructed home over a resale.
Search For Your New Jacksonville Home Today
With all that the "River City" has to offer, there's no doubt that Jacksonville is a great place to live. Start your search for a new construction home in the Jacksonville metro area with NewHomesMate today!