What Is a Master-Planned Community?
Are you looking to live in a community where you can live, work, shop, learn, and play? Sounds almost too good to be true, doesn't it? But it's not when you live in a master-planned community!
Known to have it all, master-planned communities are large residential developments built with the goal of creating a small town where residents can enjoy living with everything they need at their fingertips. Master-planned communities are usually the result of a partnership between several builders offering an array of home options designed to suit all lifestyles, budgets, and preferences. Residents of master-planned communities enjoy living in a quiet, suburban atmosphere within easy commute of larger, urban cities.
You can find master-planned communities all over the United States and the world. Here are a few of the most popular master-planned communities offering new construction homes in cities where NewHomesMate operates.
Austin
The Colony (Bastrop, Texas)
The Colony is a new home community in Bastrop, 30 miles east of Austin, that offers wonderful homes amongst resort-style amenities. Nine well-established and reputed building companies have come together to offer homes with over 70 different floorplans and a variety of styles and designs to suit any family's needs. This charming community features a large park and playground, several swimming pools and fitness centers, a dog park, and miles of scenic trails for hiking and biking. Residents of The Colony have access to high-quality schools, as well as all the essential stores and services they need in Bastrop.
Lakeside at Tessera on Lake Travis (Lago Vista, Texas)
Awarded Master-Plan Community of the Year in 2019 by the Austin Business Journal, Lakeside at Tessera on Lake Travis is more than just a neighborhood, it's a lifestyle. Conveniently located less than 40 miles northwest of Austin, Lakeside is set upon the banks of Lake Travis in the Texas Hill Country. The community features thoughtfully designed homes in a variety of lot sizes at price ranges ranging from the $400s to the $700s. The community also has waterfront home sites with stunning views at higher price points. Residents enjoy family-friendly amenities including a swimming pool, hiking and biking trail, and access to an array of water activities on Lake Travis. Children attend "A" rated Lago Vista ISD schools, and the community is located within close proximity to essential services, shopping malls, and entertainment options in Cedar Park, Leander, and Round Rock.
6 Creeks (Kyle, Texas)
6 Creeks is a master-planned community located in Kyle, one of the fastest-growing cities in Texas just 20 minutes south of Austin. The community offers carefully crafted new homes with diverse floorplans and architectural styles tailored to suit all lifestyles and preferences. Residents of 6 Creeks enjoy access to family-friendly amenities, outdoor activities, and all the stores and services they need in Kyle. The reputable Hays County ISD serves students living in the area.
Travisso (Leander, Texas)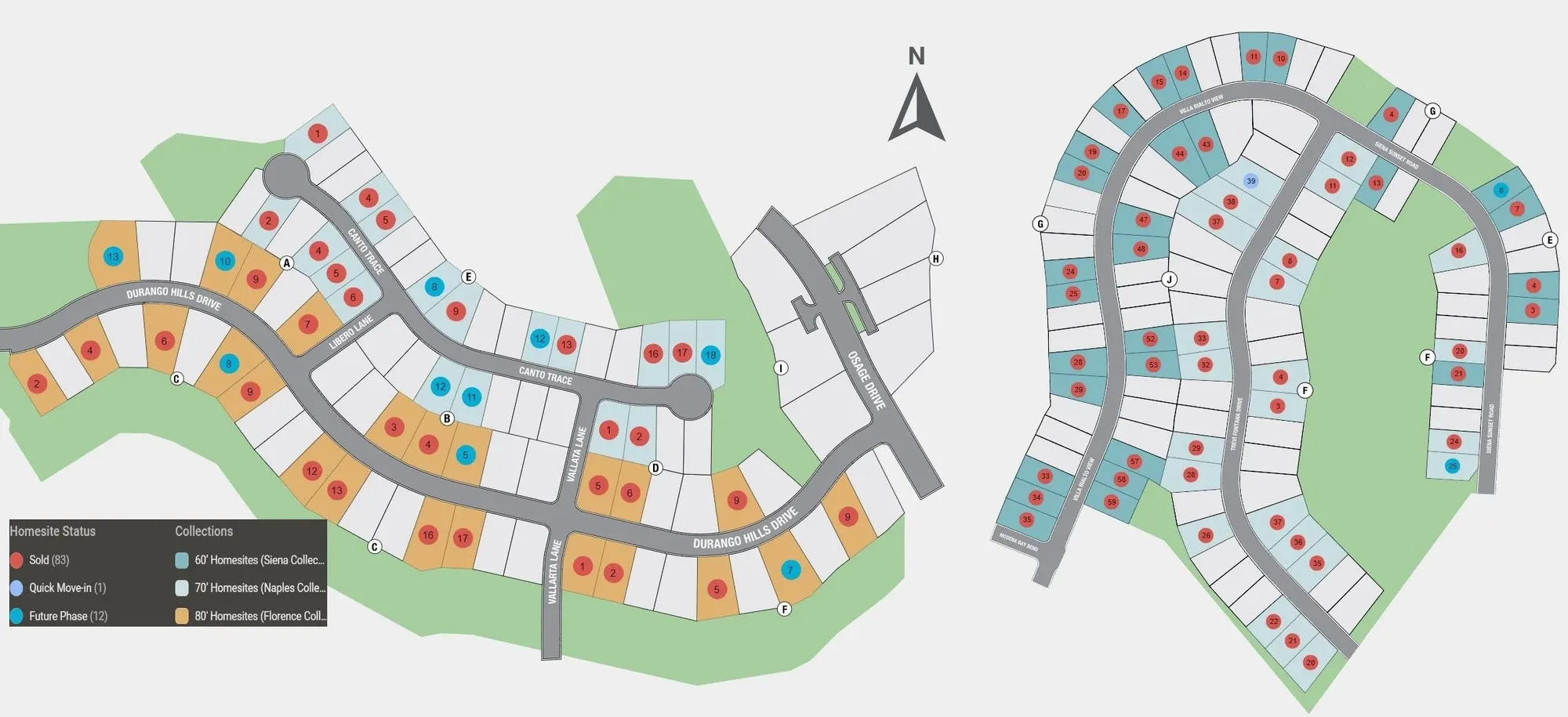 Travisso is a master-planned community that's tucked away in the Texas Hill Country but only 30 minutes from Austin. The community features the highest quality homes from a selection of award-winning builders starting in the $300s, up to $1 million+. Travisso's award-winning amenity center features a resort-style pool, a playground, tennis courts, recreational fields, and a state-of-the-art fitness center. Travisso is part of the well-reputed Leander ISD and provides easy access to shopping, recreation, and services in nearby Cedar Park.
Houston
Bridgeland (Cypress, Texas)
Bridgeland is a master-planned community located just 30 miles northwest of downtown Houston. The community is the result of seventeen of Houston's premier builders coming together to offer innovative and high-tech homes in a variety of architectural styles and designs. Homes range in price from the $350s all the way to $1 million. The community boasts 3,000 acres of open space and 900 acres of lakes and waterways, making it a wonderful place to enjoy the outdoors and connect with nature. Bridgeland truly is a self-contained community that includes onsite schools and plans for building a shopping hub within each of the four sections of the community.
Balmoral (Humble, Texas)
As the top-selling master-planned community from 2019 to 2021, Balmoral is a wonderful place to live. Located in Humble Texas, just 21 miles northwest of downtown Houston, Balmoral includes over 2,000 luxurious homes set in gated, non-gated, and lakeside villages and ranging in price from the $200s to $500s. The community features swimming pools, lakes, parks, playgrounds, walking trails, and a spectacular Crystal Clear Lagoon surrounded by white sand beaches. Residents have access to Humble ISD schools, as well as shopping, services, and recreational activities in larger suburbs nearby.
Cross Creek Ranch (Fulshear, Texas)
West of Katy and Houston, in Fulshear, Texas, you'll find Cross Creek Ranch, a 3,200-acre community that caters to every lifestyle. Cross Creek Ranch offers homes starting from the $280s that are designed by reputable builders with floor plans to suit every family and budget. The community boasts lakes, parks, trails, swimming pools, and many other recreational amenities, as well as four onsite schools and a gated, resort-style 55+ community.
Elyson (Katy, Texas)
Created by Newland, Elyson is the next great development in the highly sought-after area of Katy, Texas, which lies just 30 miles west of downtown Houston. Offering innovative and attractive designs and floorplans ranging in price from the $300s to $900s, Elyson truly has a home for every lifestyle and preference. The community offers a lake and trail system, five parks, a resort-style pool, a fitness center, and much more. Families are served by the highly acclaimed Katy ISD, with one school onsite and others just a short distance away. A planned shopping precinct within the community will include a variety of shops and restaurants, as well as a Target.
Dallas
Viridian (Arlington, Texas)
If you want to live the ultimate lakeside lifestyle with easy access to the bustling metroplex of Dallas-Fort Worth, Viridian is the place for you. This new 2,000-acre master-planned community features five lakes, 500 acres of open space, and miles of nature trails. With homes designed by eight award-winning builders and beginning in the $370s, Viridian has the ideal home for every family and lifestyle, including townhomes, single-family homes, custom-built estates, and even a 55+ community. Residents enjoy access to community swimming pools, tennis courts, an onsite school, and a thriving town center right nearby in Arlington.
Mustang Lakes (Celina, Texas)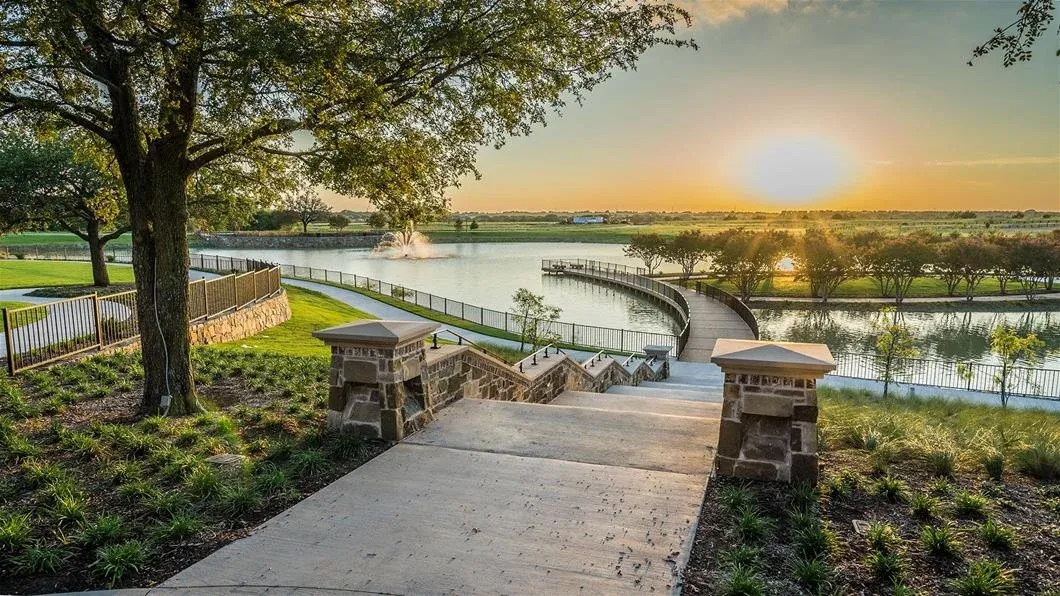 Escape to Mustang Lakes, the 2018 Master Planned Community of the Year, located just an hour north of downtown Dallas. Eight nationally renowned builders have come together to offer homes in a variety of sizes and styles starting in the $500, as well as award-winning amenities including resort-style swimming pools, a state-of-the-art fitness center, a 20-acre park with sports fields and hiking trails, a private lake and island, and much more. Families of Mustang Lakes are served by Prosper ISD, one of the best in the area.
Canyon Falls (Flower Mound, Northlake, and Argyle, Texas)
Canyon Falls is a thriving master-planned community that spans three suburbs within the Dallas metroplex. The community is the result of a partnership between ten builders that offers flexible floor plans and designs. While this community is reaching maturity, there are still many new homes available and plans are in place for more new luxury homes to be built in the future. With an array of amenities including swimming pools, a splash pad, and a dog park, as well as miles of trails, Canyon Falls is a place where you can enjoy an active, outdoor lifestyle.
Devonshire (Forney, Texas)
Centrally located in the Dallas-Fort Worth area, Devonshire is a peaceful master-planned community in the country with the conveniences of the city right nearby. The community boasts a large variety of home sizes and plans that range in price from the $200s to the $700s. With plenty of recreational amenities including swimming pools and a splash pad, as well as pocket parks and green spaces sprinkled throughout the community, Devonshire is the perfect place for Texas fun in the sun.
Orlando
Lake Nona
Known as a community for the future, Lake Nona is the fastest-growing master-planned community in Orlando offering modern design and technology features for all lifestyles. The community has a broad selection of home options from modern apartments and townhouses to single-family homes, expansive estates, and senior living communities. Living in Lake Nona, it's easy to enjoy the outdoors with forty percent of the area being dedicated to green space, as well as many community parks and even a community garden where residents grow their own food.
Sunbridge (Orlando, Florida)
Sunbridge is a master-planned community founded on the idea that spending time in nature should be an essential part of every person's every day. Located just half an hour from downtown Orlando, Sunbridge is a new community that's expanding to include new homes, as well as workplaces, restaurants, shops, and an array of recreational amenities. Sunbridge currently offers an active 55+ community, and will soon be filled with beautiful new homes for all ages and stages of life. With the goal of giving residents a strong connection to the outdoors as well as a beautiful and diverse street scene, the community will offer a wide range of home sizes in a variety of architectural styles.
Tohoqua (Kissimmee, Florida)
For affordable luxury living just 25 miles from downtown Orlando, check out Tohoqua. This 730-acre master-planned community is designed to provide a relaxed lifestyle for residents of all ages. It offers an array of home designs, styles, and price ranges, starting in the $250s, as well as outstanding recreational amenities including a swimming pool, fitness center, sports fields, playground, walking trails, and lots of green space. Families love having high-quality schools within walking distance of the community, as well as plenty of shopping, dining, and essential services nearby.
Jacksonville
Nocatee (Ponte Vedra, Florida)
Nocatee is a new coastal community located in the prestigious area of Ponte Vedra, with miles of pristine beaches and the cities of Jacksonville and St. Augustine right nearby. As one of the best-selling communities in the country, Nocatee offers an exceptional quality of living and a warm sense of community for residents of all ages. The community includes several distinct neighborhoods with homes to suit all preferences and budgets starting from the mid $400s all the way to $1.6 million+. Residents enjoy an abundance of recreational amenities, regular community events, and plenty of shopping and dining options at the Nocatee Town Center.
eTown (Jacksonville, Florida)
eTown is a thoughtfully designed master-planned community that uses the latest technology and innovation to provide convenience and sustainability for residents. Located just 20 minutes from downtown Jacksonville, eTown offers apartments, townhomes, and single-family homes with various floorplans starting in $400s. Amenities include a resort-style pool, a dog park, and a playground, along with an abundance of green space for everyone to enjoy.
Silverleaf (St. Augustine, Florida
Expected to become one of the largest community developments in all of northeast Florida, Silverleaf is a family-friendly master-planned community located in St- Augustine. Here you can choose from 12 floorplans designed by established builders who are ready to help you build your ideal home. The community features 3,500 acres of natural preserve, along with many parks and recreational amenities. Future plans are in place for commercial development within the community, which will include shopping, dining, and health care services. With the beach and the St. Johns River right nearby, residents enjoy easy access to all kinds of outdoor and water adventures, and families are proud to be served by the #1 public school district in the state.
Beacon Lake (St. Augustine, Florida)
Beacon Lake is another master-planned community in St. Augustine that's a wonderful place to live. Set on the banks of an expansive lake and surrounded by 358 acres of nature preserve, Beacon Lake offers an outdoor lifestyle and community like no other. The award-winning builders of the community offer a range of single-family home options starting in the $400s. Amenities include swimming pools, a sand beach, sports fields, and lots of open green space. Residents love the easy access they have to Jacksonville and St.Augustine, as well as the A-rated schools nearby.
Which Master-Planned Community Is For You?
NewHomesMate provides the industry's best tools for finding and buying your ideal new home in a master-planned community, Learn more about us and start searching for your new construction home with NewHomesMate today!